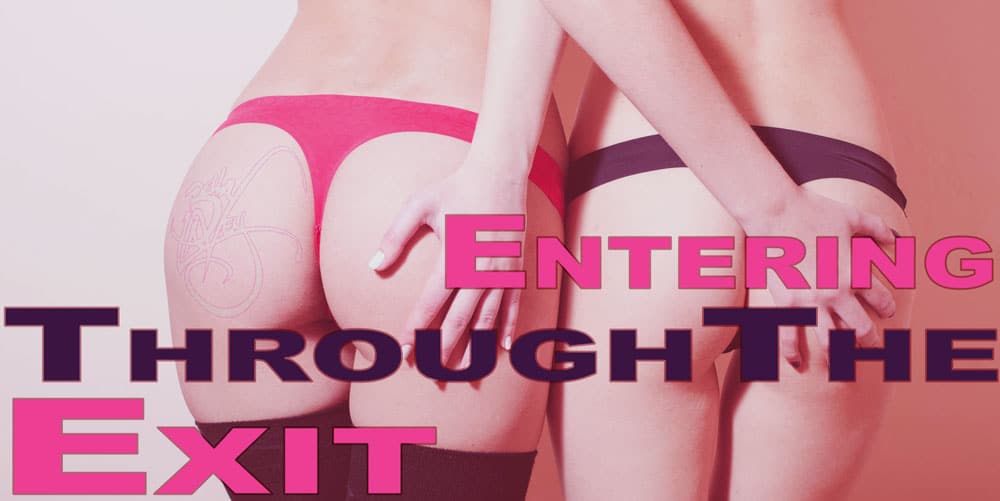 Ass play requires a basic understanding of anatomy, care, attention, skill, and preparation. Statistics tell us a large percentage of adults have tried anal sex, but only a small percentage of those adults have anal sex regularly. This isn't surprising; often we go into ass play without knowing the basics how-tos.

First time receptive partners are often afraid entering the exit is going to hurt and recoil at the request. Many women have tried it once and now scream, "No way, it hurts!" whenever their man starts poking a little too low.
And anal sex can be extremely painful and traumatic if done improperly. The penetrator needs to know what they're doing. The receptive partner needs to know how to prep, what positions are best and how to guide their partner.
The two big misconceptions around ass play are it's dirty and, with heterosexual dudes, "If I like anal sex it means I'm gay." These long-standing cultural fallacies have unfortunately locked up the back door of many people depriving them of exquisite pleasure.
A lot of heterosexual guys are scared to ask their lady partner for a finger because they are afraid their partner will respond negatively and reject them. The anus is the holy portal to the prostate, a walnut-sized gland located at the root of the penis. The prostate is called the men's G-spot and is a major pleasure zone.
Prostate massage is beneficial for maintaining a healthy prostate. Massaging the prostate removes stagnant semen, increase the amount of ejaculate and may cause a sky rocketing orgasm!

Tips for Hot, Sexy, and Pleasurable Anal Sex
---
Anal Anatomy 101
The anus opens to the short anal canal, which leads to the rectum. The anal canal and rectum are the primarily passageways for feces during bowel movements. But they do not store feces and, therefore, are not as dirty as most people think.
The highest concentration of nerve endings is around the anal opening, making it one of the most sensitive areas of the body and a primary erogenous zone for many people. These nerves can detect both great pleasure and intense pain.
The shape and size of the rectum vary from person to person. The average rectum is 5 to 7 inches in length. It has fewer nerve endings and is not as sensitive as the anus. The rectum has two curves and tilts toward the front of the body then curves back to the left – sometimes as much as 90 degrees.
Hygiene
Clean your ass for sex with warm soapy water. Many people feel cleaner and more comfortable if they prep for anal sex with an anal douche. Use a fleet enema purchased at the drug store. This will reduce the chances of seeing and smelling poop. Ass to pussy is a no-no. Never insert your finger or cock into the vagina after it's come in contact with the anus.  Keep a package of baby wipes nearby.
Explore Your Own Backdoor
Sexual self-play is important for many reasons. You have to know your equipment. Examine your bum with a handheld mirror or squat over a mirror with a flashlight. Don't expect your lover to know you're a clencher and hold chronic tension in your ass if you haven't told her so.
Chances are by the time you let someone diddle your primary fiddle you've learned to play a few chords. If ass play is new to you, explore your ass solo before you approach a partner. Trim your fingernails!
Go Heavy on the Foreplay
Don't go in cold and head straight for the back door. Slowly build up arousal until both partners are super turned on. Most women don't orgasm from anal sex alone though it can lead to indirect clitoral orgasms. Plus the perineal sponge is located at the anterior wall of the anus and it is full of nerve endings.
Remember to stimulate her nipples, clitoris and G-spot too. Ladies, try using a vibrator on your clit to spread out the sensation.
Relax
Two muscle rings, called sphincters, each functioning independently, surround the anal opening. Chronic anal tension is the most common cause of anal discomfort during sex. The ability to relax the anal sphincter muscles is crucial for pleasurable anal sex. Warm up with massage and erotic stimulation. Never ram a finger, cock or dildo up someone's ass. Let the receptive partner back up on the cock or dildo and control entry. Go SLOW!
Take time to train your anus for pleasure. Practice with smaller objects starting first with your finger and then inserting just the tip of a cock or toy. Don't rush it. Relax your anus with deep, even, belly breaths and heavy audible sighs on the exhale.
Many people store chronic stress in their anus and experience involuntary contractions of the anal sphincter muscles called anal spasms. Learn to notice when your anus muscles are tense or relaxed.
Trauma from insensitive partners and unpleasant anal experiences are often held as body memory in the anus. The anus is also connected to the first chakra and can store early childhood trauma and survival issues. The sensitive healing touch of a conscious, caring partner or trained tantric practitioner can help release this stored trauma. Chanting or toning the seed sound LAM associated with the root chakra during anal sex may help release imbalances and move stagnant energy.
Lube! 
Without proper lubrication, the delicate anal tissue is vulnerable to micro-tears. Use lubes that are greasy or oily. Silicone lubricants are not natural, and water-based lubricants are sticky and can dry up quickly. Coconut oil is anti-fungal, anti-bacterial and my lube of choice. Never use oil-based lubricants with condoms because oil weakens the latex. Place the lubricant both in the butt and on the toy or cock and reapply as necessary. Avoid chemicals, additives and scents. Try Yes.
Favorable Positions
Any position that places the legs at a right angle to the upper body such as sitting, squatting or lying on your back or your side with your knees pulled to your the chest will help to straighten the rectum out. The most natural position to relax the anal muscles is spooning on your left side.
If you do not have the proper angle, objects will run into the rectal wall and cause pain. Work up to doggy style on all fours; it's usually not the best position to start with.
Many women prefer being on top because it helps them control the pace, but the curvature of the cock can make a huge difference in experiencing pleasure or pain. If you are in the girl-on-top position face toward your man if his cock curves up toward the man's belly. If his cock curves downward face away from him in reverse cowgirl.
It Doesn't Have to Hurt
If you devote time and attention to exploring anal sex, it can become an acquired taste, and an extremely pleasurable one at that. Everybody has their own sexual style, timing, and rhythm. Even if your partner prefers rough vaginal sex, never thrust in the ass, especially when you're anal training. Go in one inch at a time. Have the receptive partner contract and release their anal muscles before going in deeper.
If you have given anal sex a few earnest attempts and still don't like it, don't sweat it; it's not for everyone. Never bend over and just take it. If you are unable to relax your anus enough to enjoy penetration, try rimming. Analingus is a deeply intimate exchange with a fluid bonded partner. Breathe through your nose and gently circle your tongue around the outside of your lover's freshly washed anus.
---
Anal sex is a very intimate sexual activity and definitely worth taking the time to explore. Often it increases trust and intimacy between partners. Make it a sacred and a deeply enriching experience for each other.
Please feel free to share your experience in a comment below.


Bella's Also On: