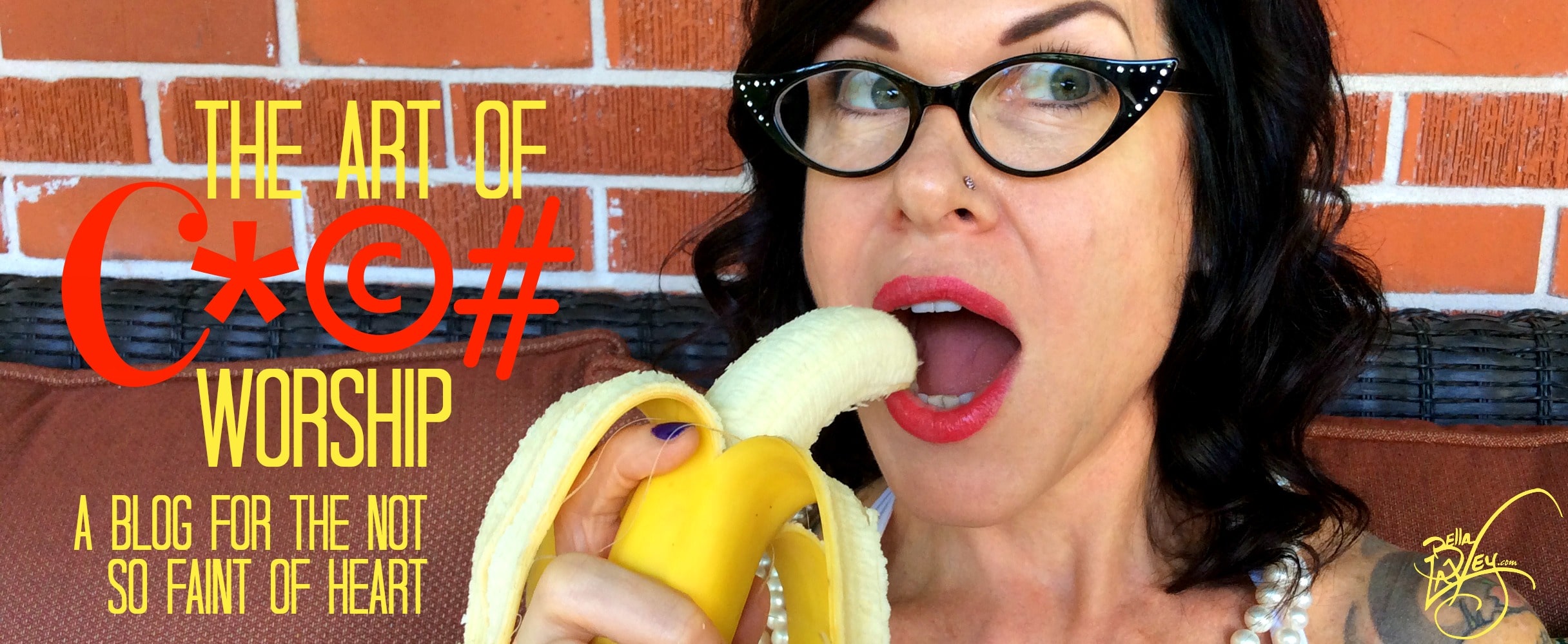 A blowjob is something you do for him — cock worship is something you do for YOU.
Yes, it's a gift and offering but, you do it because you love it and you need it. You do it because there's nothing you want more than to be showered in his masculine essence.
Attitude: The majority of blowjobs are obligatory, attached to an agenda; I do this for you and you do this for me. They are often given begrudgingly to simply appease the guy. Cock worship is a spiritual practice; you beg for it, you get on your knees and plead, Please, Daddy , Please! You may not know that you are actually engaging in one of the oldest, female sexual alchemy practices in the world but—you are. Do not underestimate the power of cock worship. When you worship with true devotion, glee and openness you will find yourself tingling with the restorative energy of what is called replenishing the Yin with Yang. This mysterious Daoist teaching for women is buried deep under masculine spiritual practices.
Demeanor: Blowjobs are usually performed without a lot of forethought; they're simply a short-lived sex act performed for the benefit of another. Cock worship is something you train for. Your demeanor is a combination of submissive, sexually hungry, and innocent with a smidgen of danger. Attempt to return to a state of adolescence when you worship. Imagine you are a teenager again and let the precocious, little girl in you play. Eye contact is important. Our spirits shine through our eyes so show him with your eyes just how much you yearn to please him and how grateful you are to have his joystick in your mouth. Be grateful for this opportunity to be in service. Say thank you!
God Consciousness: When in practice, see the man, or men, (build up to this) you're so fervently worshipping as God. How would you suckle the lingham of the Lord if he incarnated before you? If you have an infinity for Jesus, Shiva or Pan imagine this archetypical masculine force of nature offering you his godstick and bring him to his knees. Worship with soul, pour yourself into your practice. Ooze love.
Technique: As with all spiritual practice—practice regularly. I never let more than a couple days pass. Skilled cock worshippers produce lots of saliva and have learned to open their throat. They enjoy gagging and work magic with their tongues. There are many ways to strengthen your tongue but, I suggest you just worship a lot and, in time, you'll notice your tongue will become increasingly agile and dexterous. Continually expand your cock sucking repertoire and create your signature slurp. There is no end to learning, see your worship as an art form and your service to mankind as the most precious of gifts.
Combine hand and oral techniques and continually switch between the two. A skilled cock slut will be able to use both hands and her mouth simultaneously with all three doing something different. Remember—practice practice practice! Cock worship is both technical prowess and heart-center spiritual devotion.
Don't exclude his dragon pearls (balls) in your worship. Worship the whole package -the shaft, the head and the balls. Some men love their balls gently tickled and suckled while other guys desire more intensity. Learn to read body language and ask, "how does this feel?" For a mind-bending worship session stimulate his prostrate gland. Again, some guys are just not down with this but, I reckon over 50% are secretly begging for it, so get the lube ready.
Swallow vs. Spread: This is my personal opinion, so take it for what's it worth. Swallowing has it's moments and all seasoned fellatrices have experienced swallowing as a profound finale. I reserve it as a special event. A healthy man's ejaculate is a fabulous skin rejuvenator. This should be something you crave. You want to be bathed in cum—Holy Spunk Serum! Historically, this has been a past time of the aristocrats who kept a bevy of boys on hand… oh my dream come true. Honestly, after of a lifetime of debauchery, my skin glows. So ladies, go ahead and smear his jizz all over your face, neck and breasts and anywhere else for that matter. Please don't waste the precious god-juice. For lasting benefits let it coagulate and have your guy read my upcoming blog on improving the taste and quality of his man-nectar.
Preparation: You never know when God is going to show up so, have a little cock worship kit handy. A little mirror to refreshen your lipstick, natural baby wipes, coconut oil and a little rose water spritzer will help you feel ready at all times. I've been known to keep a cock worshipping cushion in my car for back-ally service. Be smart and safe.
Happy Worshipping!

www.BellaLaVey.com