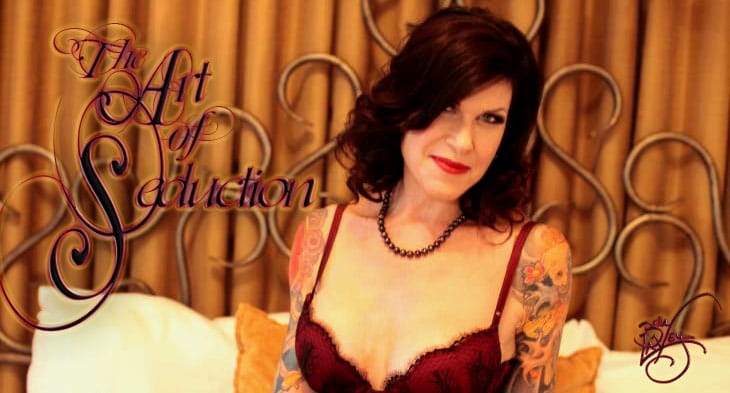 The art of seduction has received a bad rap in recent times. Relationship coach mavens dismiss this art as merely a manipulative ploy coated with insincerity and dishonesty. Yes, the art of seduction is readily employed by the rogue hustler, but let's not toss the baby out with the bath water. Seduction is a juicy art form that builds confidence and connection. It's empowering. And who doesn't love to be charmed? Why not remove the stigma associated with seduction and begin to view it as a positive and practical talent?
The Kama Sutra says we need to learn 64 skills to master the art of seduction. The 64 skills are really more about becoming the master of your own life than a master of seduction. The number 64 signifies the totality of life. Hindus divide life into 4 stages. In each stage contains 4 branches of knowledge, making 16 branches of knowledge. In each branch there are 4 disciplines, totaling 64. Mastery of all of the branches is equated with complete mastery of your life.
Are you a traditional seducer incorporating the art of singing, dancing, writing, playing musical instruments, tattooing or composing poems into your repertoire? There are obvious masculine arts such as: the art of weaponry and cock-fighting and feminine arts such as: the art of perfuming the body, making beds, and arranging beds of flowers. Check out the full list at the end of this blog. It's enertaining, albeit archaic.
Whatever you love and excel at are your sexiest attributes. The art of reading and the culinary arts are a sure-fire way to woo me. And, I had no idea how sexy the art of carpentry could be until my husband started building me a writing cottage. Find your passion and share it with others.
Does your definition of a seduction need an upgrade? A seducer is a person who is in their power, owning their own beauty and in touch with their erotic essence. Seduction is about liberation and personal power. It is not always about sex.
7 Things You Can Learn From the Great Mavericks of Seduction
1. Be Present
The courtesans of the Belle Epoch doted on their patrons with undivided attention. Today we split our attention with devices so frequently it has become acceptable to check texts in the middle of a conversation. Be a heretic and put your cell phone on airplane mode.
2. Be Confident
The art of seduction takes self-confidence. Get out and practice. Compliment the barista and flash your most coquettish grin at the joggers on the hike and bike trail. Make eye contact and smile with your eyes. Kindness coupled with respect makes people feel they are genuinely loved and appreciated.
3. Be Embodied
The ancient seducers were at home in their skins; they understood how to read body language and move their bodies in subtle seduction. If you don't have a physical practice such as yoga, qigong or dance, take a class. And don't be afraid to connect. A light touch on the shoulder or a hug upon greeting or departing is endearing. These gestures go a long way in our touch-deprived world.
4. Be Brave
Courage is the ability to walk through fear to face a challenge or overcome an obstacle with resolve. It requires risks. Seducers are audacious and fearless. Well maybe not fearless, but they don't let it stop them.
5. Be Skilled
Know your stuff and refine your craft to artistry. This takes focus, discipline and self-direction. What you put out is what you get back. How are your communication skills? Communication is an essential skill for connection with others.
6. Be Conspicuous
Pump up the volume and go big. How can you accentuate your charms? This can be done through external accessories and internal vibrancy, add both to be irresistible and radiate like a rockstar. Offer sincere compliments and praise. When you receive one, accept it fully and say, "Thank you, I'm glad you like it."
7. Be Passionate
I love Latino cultures and their freedom to exude sass and sauciness. There is no need to downplay your natural radiance, be blatantly sexy. Sexual energy is the highest form of energy in the world—cultivate, express, and circulate it. Check out this Ted Talk on the power of seduction by the tantalizing enchantress, dancer, author and entrepreneur, Chen Lizra.
The 64 Arts of the Kama Sutra
Singing

Playing musical instruments

Dancing

Union of dancing, singing, & playing instrumental music

Writing & drawing

Tattooing

Arraying & adorning an idol with rice & flowers

Spreading & arranging beds or couches with flowers, or flowers upon the ground

Coloring the teeth, garments, hair, nails & bodies

Fixing stained glass into a floor

Making beds and spreading carpets & cushions for reclining

Playing on musical glasses filled with water

Storing & accumulating water in aqueducts, cisterns & reservoirs

Picture making, trimming & decorating

Stringing of rosaries, necklaces, garlands & wreaths

Binding of turbans & chaplets, making crests & top-knots of flowers

Scenic representations, stage playing

Making ear ornaments

Preparing perfumes & odors

Proper disposition of jewels & decorations, and adornment in dress

Magic or sorcery

Quickness of hand or manual skill

Culinary arts

Making lemonades, sherbets, acidulated drinks, & spirituous extracts

Tailoring & sewing

Making figures & trinkets out of yarn or thread

Solving of riddles & enigmas

Playing the game of Antakshari

The art of mimicry or imitation

Reading, including chanting & intoning

Study of sentences that are difficult to pronounce, i.e. tongue twisters

Practice with sword, single stick, quarter staff & bow & arrow 

Drawing inferences & reasoning

Carpentry

Architecture & building

Knowledge of gold & silver coins, jewels & gems

Knowledge of chemistry & mineralogy

Coloring jewels, gems & beads

Knowledge of mines & quarries

Gardening & horticulture

Cock fighting, quail fighting & ram fighting

Teaching parrots & starlings to speak

Applying perfumed ointments to the body, and of dressing the hair with unguents & perfumes

Writing in encrypted script

The art of speaking by changing the forms of words

Knowledge of language & of the vernacular dialects

Art of making flower carriages

Art of framing mystical diagrams, of addressing spells & charms, and binding armlets

Mental exercises, such as completing stanzas or verses and composing poems

Knowledge of dictionaries & vocabularies

Disguise

Knowledge of human anatomy & the art of making love

Various ways of gambling

Obtaining possession of the property of others by means of mantras or incantations

Athleticism

Knowledge of the rules of society, and of how to pay respect & compliments to others

Knowledge of the art of war

Knowledge of gymnastics

Knowing the character of a man from his features

Knowledge of scanning or constructing verses

Arithmetical recreations

Making artificial flowers

Making figures & images in clay

Art of massages & spiritual healing 

Bella's Also On: