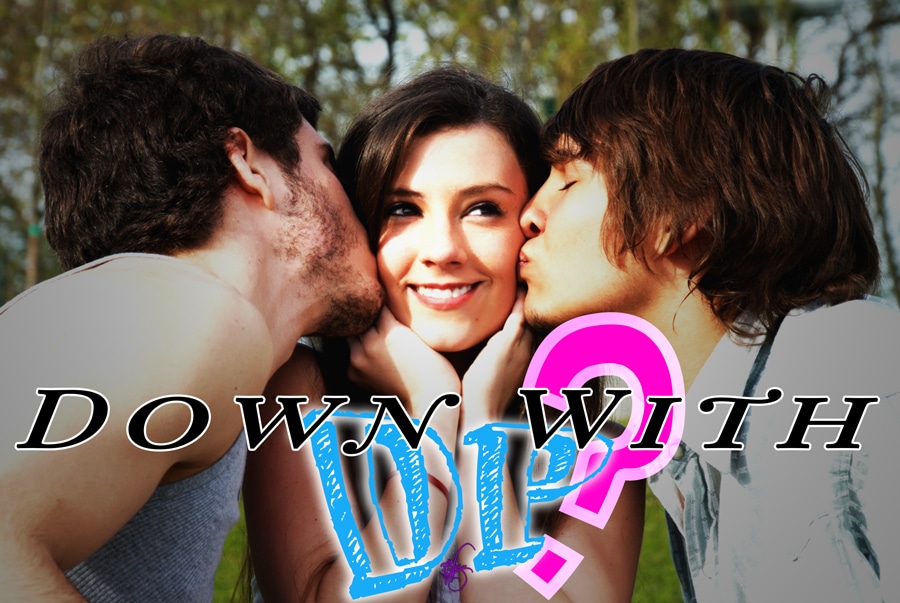 Dear Sacred,
I've had sexual experiences with multiple girls but have always been reserved about having another guy involved. Recently one of my best friends asked me to help fulfill her double penetration fantasy and be part of an MMF threesome with her and her boyfriend. We are all great friends, but the idea of having an MMF isn't nearly as appealing as FFM. I'm curious and want to help her fulfill her fantasy, but I'm not super excited. I don't want to make it awkward for us. What if I say yes and then decide I'm not feeling it? I cannot seem to let go of my fears.
Any advice or suggestions you may have will greatly help. I am so glad to have such a kick-ass resource in you! You're kind of my hero.
Peace,
A Maybe on MMF
Dear Maybe MMF,
Thank you for reaching out to me. I think you're a fabulous friend to be contemplating stepping out of your comfort zone on her behalf. Experimenting is fun and a little trepidation around negotiating a first-time DP-MMF normal. But remember we don't all share the same fantasies of our friends and lovers and it's not our job to fulfill everybody's dream.

Be true to yourself. There has to be a fair amount of I'm curious and down for experimentation in the mix. If you have serious apprehensions then listen to what your needs are. Now might not be the right time for you. Honor yourself and don't override your truth. There are plenty of guys that would stand in line to help her fulfill this fantasy. I think it has become common for us to think all the cool hipsters are poly and pansexual. It's not uncool to say no.
Who goes where? Sit down and have a candid conversation with your slutty friend who's begging to have her holes filled. Express your fears and what turns you on and wigs you out. Ask what she wants. Does she fantasize about the two of you coming inside her at once? That sounds hot! Are you going to get sketched out if his jizz drips on you?
Take the pressure off yourself. You don't have to be gay or bisexual to have a MMF. Make her the center of attention and star of the show. There's plenty you can do without having to worry about dicks touching. Spit roast her, she'll fucking love it!
Find her flavor. If possible watch some DP-MMF porn with your friend and her man. You don't want to get a slap in the face for calling her a slutty whore. Is kissing okay? Can you spank her ass? How does she like her nipples sucked? Does she want to start out in any position? Get some ideas.
Be chill if it's a flop. Not every sexual adventure brings down the house. Don't take it too seriously. Make sure your trio can roll with it and laugh it off as a sexual blooper.
Know thy place? Do you have a key to the whole house or just the back door? DP is all about prep, position, angle and synchronization. There is a thin membrane separating the vaginal canal from the anal canal. Size can matter. Ask her yes and no questions. Does this feel good? Do you want me to go faster? Do you need more lube?
Know thy role. You are invited in as a third wheel, which can be a vulnerable position. Let the couple direct the show. Be clear on boundaries and agree on a safeword.
Not standing at full attention? If you can't get it up, make the best of it. Ask her to have a dildo and her favorite toys available just in case. You can still blow her mind and artfully fuck her brains out.
Stay playful, curious, and in your body. Often new sexploration is intimidating. Shallow breathing constricts blood flow to the sexy parts that need it so take deep breaths. Have a blast! Set aside time to talk afterward. Make sure everyone is feeling loved, honored, and solid before saying your goodbyes.
Keep it slutty.  Make it Sacred.